Commercial Kitchen Ventilation Systems
The designs, supply and installation of commercial kitchen ventilation systems are essential to your kitchen's environment. The kitchen ventilation system must comply with current regulations, BS6173 and DW172. This is to ensure safe removal of gas fumes, cooking particulate and so that your chefs are in a suitable environment.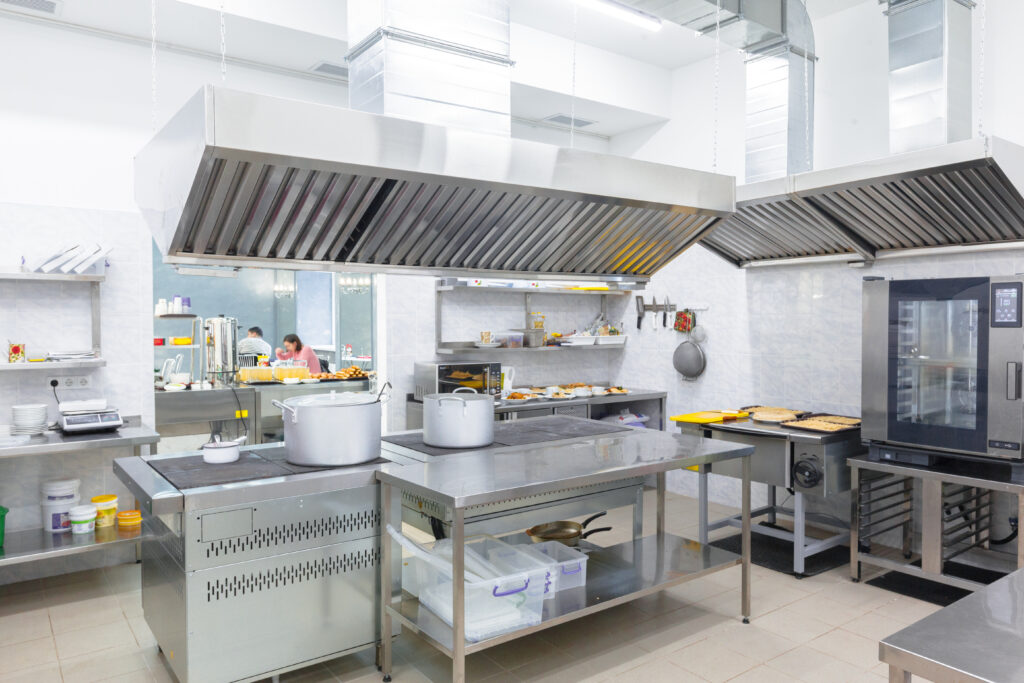 Commercial kitchen ventilation systems will usually incorporate a kitchen extraction hood, extraction ductwork (fire rated when passing through the wall of a fire compartment), extraction fan units and discharge ductwork up to the roof line.
Depending on the sensitivity of the area and your local authority you may have to install smoke control such as an electrostatic precipitator unit, this removes smoke and grease particulate from the air stream as well as an odour control system. Odour control systems can be either ozone generation systems or carbon filtration systems.
The commercial kitchen ventilation extraction canopy must overhang appliances by at least 300mm to comply with current regulation. This is so that the canopy adequately captures gas and cooking particulate from the air and then it is extracted through the extract hoods extraction plenum through the baffle filters. The extraction hood must be fitted 2,000mm from the floor to comply with regulations.
Things to remember and avoid when specifying your commercial kitchen ventilation systems:
– The extraction hood must overhang the cooking appliances by at least 300mm to either side and to the front. For central island extraction canopy hoods this overhang should be to each side of the cook line.
– The extraction hood must be fitted 2,000mm from the floor to comply with regulations although there are some possibilities if this is not possible if your commercial kitchen has a low ceiling height.
– do not undersize your ductwork. If your ductwork is undersized this means that this increases the velocity in the ductwork. If you increase the velocity within the ductwork over 8m/s you will likely run into some issues with adequate fume extraction.
– The commercial kitchen ventilation systems must be interlocked with a gas interlock system. This is a system that interfaces the gas supply with the ventilation fans. This minimises the risk of gas fumes building up within the kitchen as the  commercial kitchen ventilation systems will be drawing out air from the kitchen or if the ventilation fans are not operating the gas supply will automatically be cut off.
– do not mix solid fuel extraction ducts with ducts that serve standard catering equipment as this can potentially cause a fire and is no longer allowed according to current guidelines.
– ensure an intake air system is fitted that provided 85% of the extracted air back into the kitchen. This is to provide adequate air changes within the kitchen environment.